The on-site acceptance meeting for the Jiangsu Provincial Science and Technology Plan project "Research and Development of High Transparent All Solid State Intelligent Dimming and Energy Saving Window Glass" has come to a successful conclusion
---
Jiangsu Provincial Science and Technology Plan Project
Research and Development of High Transparent All Solid State Intelligent Dimming Energy Saving Window Glass
The on-site acceptance meeting came to a successful conclusion
On January 23, 2021, our company successfully passed the on-site acceptance of the provincial "Industry Outlook and Key Core Technologies - Competition Project" project "Research and Development of High Transparent All Solid State Intelligent Dimming Energy Saving Window Glass" (project number BE2019062).
Ren Zhen, Director of the Science and Technology Bureau of Hai'an City, presided over the meeting. The expert group leaders who personally attended the meeting were Professor Jia Hongbing from Nanjing University of Technology, Professor Gao Jiangning from Nantong University of Technology, Professor Tang Shaochun from Nanjing University, Professor Shao Qiyue from Southeast University, and CPA Guo Jinmin from Hai'an CITIC Certified Public Accountants. They highly praised our company's achievements and congratulated the project on its success.
Our company chairman Ji Shunqing, project leader Wang Qunhua, general manager Liu Jiang, and relevant staff from the Science and Technology Bureau attended the acceptance meeting.
The project leader Wang Qunhua reported to the attending experts on the key research content, key technology breakthroughs, sample technical indicators, and product market prospects of the project. The attending experts listened to the project report, reviewed relevant materials, and watched the sample performance display. They believed that the on-site acceptance materials were complete, the project management was standardized, and the acceptance requirements were met. They unanimously agreed to pass the acceptance.
The successful conclusion of this meeting marks the successful completion of our company's "research and development of high transparency all solid-state intelligent dimming energy-saving window glass" project, providing strong theoretical support and technical guidance for the smooth implementation of subsequent work. Busy Glass will carefully absorb the opinions and suggestions of the expert group of the demonstration meeting, and continue to contribute to the improvement and development of the industry's technical level!
 Jiangsu Fanhua Glass Co., Ltd
  January 23, 2020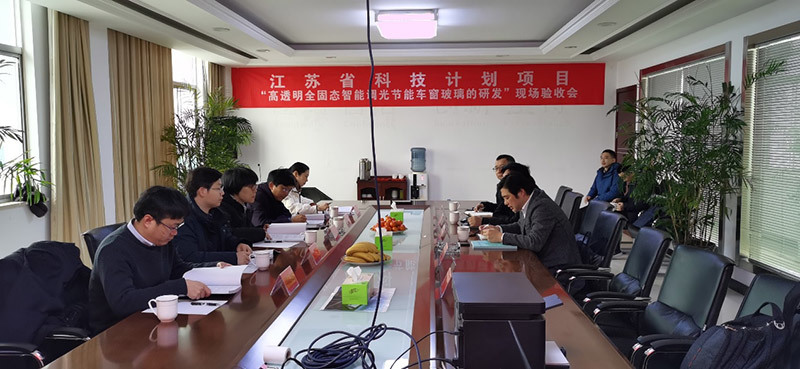 ---

Add
No.28 Nanhai middle Street,Haian,Nantong City,Jiangsu province,China

WeChat public account